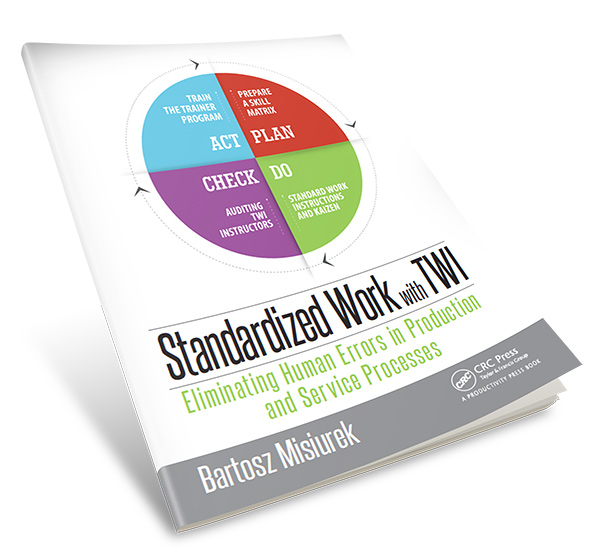 Standardized Work with TWI: Eliminating Human Errors in Production and Service Processes
Features:
Demonstrates that major losses in the production process are mainly caused by human error—the root causes of which are attributable to wrong on-site instructions, poorly designed standards of work, and the lack of an audit process
Explains how to create standard work instructions (SWI) based on the TWI Job Instruction program
Illustrates the Poka Yoke Generator Sheet (PYGS) based on the 5W1H approach, which facilitates the creation of ideas for reducing human errors
Shows how to implement TWI and knowledge matrices
Addresses methodology for auditing and sustaining standardization of work
Discusses how to conduct practical workshops about standardized work in any company
I think this is an excellent guide to creating standard work using the TWI approach. I watched some videos on TWI Job Instrutions, but didn't really get it. The author provides 41 tips to consider when writing up the standard work. In true TWI fashion, he also provides the reasoning behind the tips. Providing the reason makes it much clearer what you are trying to accomplish. The author obviously has lots of experience implementing TWI JI and JM. He does a nice job occasionally injecting his own feelings or experiences. I find it helpful when someone who is really experienced can say "this is the most common mistake that I see people make." The book takes you step by step through the process of writing up standard work. It also talks about how to improve the standard work. It then gives a plan on how to start implementing standard work. Finally it gives the instructions for how to run your own TWI training course. I think I will be referring to the book often as I start to try to install standard work in my department. With this clearly laid out model that is proven to work (it helped the US win WWII), I have a much higher degree of confidence in my chances of success.
Why You need to buy that book?
1500 likes on FaceBook page in 7 days
95% of the book is a practice
Train the Trainer course included
Standardized Work with TWI: Eliminating Human Errors in Production and Service Processes presents the Training within Industry (TWI) program and describes how it can influence and alter one's understanding of work standardization. Work standardization is the key to eliminating human errors from manufacturing and service processes. Work standardization is not just the creation of job instructions — It is a comprehensive approach in which employees are formally trained and their skills in the area of work improvement are developed by kaizen sessions. With poor instructions, though, the effectiveness of these two key activities in the work standardization process is practically impossible to achieve.
The TWI Book introduces you to 41 rules for standard work instruction (SWI) preparation. Following these rules will ensure that the instructions in your company are ideally suited to train operators and improve work. The author developed these rules based on his professional experience and practice within the TWI program in over 120 manufacturing and service enterprises, while creating thousands of SWIs. These rules are a clear set of signposts that will help you develop a correct SWI on the first attempt without any unnecessary correction of errors. The quality of SWIs significantly affects how on-the-job training sessions are run, as well as how work analysis with respect to improvement is conducted.
Book